SEARCH YOUR TOPIC HERE....
16 November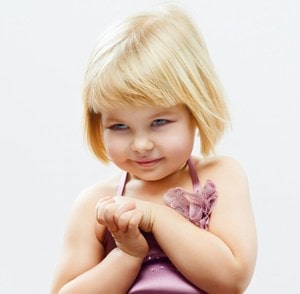 The sassy hairstyle which promises your baby girl a stunningly gorgeous look. It is a bob cut with longer hair on the sides giving the old retro style a contemporary touch. The back is shorter and the front is longer.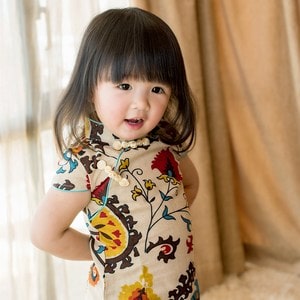 We are all very much aware of this wonderful haircut which has been in fashion since ages. Short and stylish, this is one of the most popular hairstyles not only with adults but also with baby girls. Keep it simple yet very classy with a smartly done bob haircut.
This is known to be the maintenance free haircut for children. If you are looking for a hairstyle that
doesn't need any setting up or take care then tom boy style is the best of all. Set her hair free and save all the time that goes into managing them.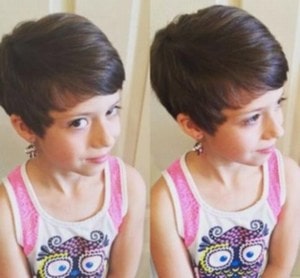 Yet another choice of easy to go hairstyle for kids. It requires no management or everyday styling as it is short and hassle free. As a mother, you can ease your daily routine with short pixie as you don't have to set her hair for parties or outings.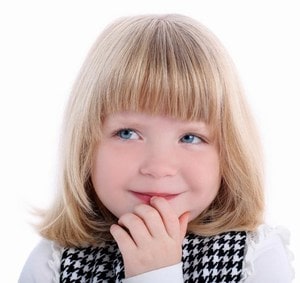 We know it as the popular Sadhna Cut. The front hair are cut into bangs and ensure that your little one looks the cutest. They are short enough so that they don't fall into her eyes. It is definitely the most adorable hairstyle for baby girls which goes well with their princess look.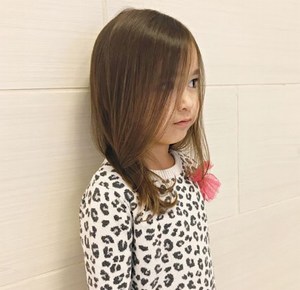 Always the best and the simplest of all haircuts that has been favourite of all the mothers. For girls who want to keep their hair long, long blunt is a good choice. It is usually shoulder length and promises easy pony tail.
If your little darling has thin hair with a feathery texture then this is the best choice of hairstyle to give her. This will not only make her hair easy to manage but will also make them look a few degrees denser.
If your girl enjoys fashion then you can have here hair streaked in some colours that are close to the colour of her original hair. This will add more style to her simple hair. But make sure that you take proper care of coloured hair.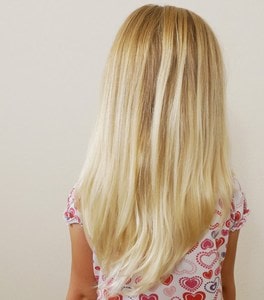 If you don't mind experimenting a little with your baby's hair then this is a cool hairstyle to try. She will look really very smart flaunting a fashionable haircut. If you are concerned about her hair going very short, keep the length medium and don't worry as hair grow back quick in case of kids.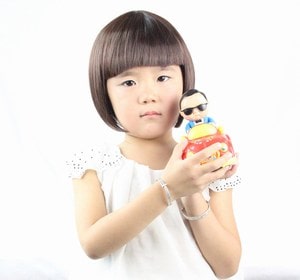 Want a hair style that is short, easy to manage and also stylish? Then short blunt is the style that will suit all the needs. Especially if your girl has heavy and dense hair, with short blunt, they will become very much manageable.
For all the girls who have curly hair, layers is a wonderful idea. It not only promises easy manageability but also reduces the volume of curls by cutting them into layers. Your princess will look amazingly adorable in this unique style.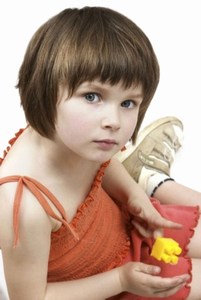 The evergreen bob cut looks all the more stylish with fringes. Let those hair fall on her forehead with a smartly done bob hair cute. And when her fringes grow back, it is time for a new hair cut or just pin them up.
For girls who have reasonably long hair, it is a good idea to go with smooth layers. The beautiful locks are cut into layers to keep the bounce and make hair easier to manage. And when she has to go for a party, just let them loose with a floral headband.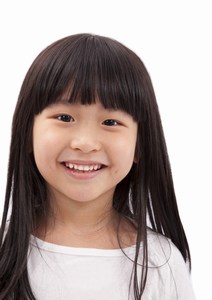 If your princess has long hair then to keep it simple and just like a princess is to have it cut straight with beautifully done fringes. She will definitely steal all the limelight. You can leave her hair open or make a high ponytail which will go with all kinds of dresses she loves to get dressed in.
For a baby girl who has long hair, you can give her hair a tapering cut which will maintain her length and will have a nice finish on the ends. It is an easy to do haircut. Make braids or ponytails and she will look superb!!!
Whether short or long, straighteners are the perfect solution for getting straight hair every day at home. Most of us spend a lot of time and money to do our hair in the salon.

But by investing in a straightening iron, you can straighten, curl, increase the volume of hair and style your hair according to your needs.

The right choice of a straightener will not only last a long time, but will also protect your hair from damage, breakage, cracks and uneven textures.
HSI Professional Ceramic Tourmaline Ionic Flat Iron
H3000 Tourmaline Ceramic Straightening
When hair stylists comment online about a great product for curling or straightening hair, it is always the HairArt H3000 Tourmaline Ceramic Straightening Iron because it works wonders on all types of hair. In fact, the product's wide 3/8 "ceramic plate, five temperature settings and user-friendly swivel cord make it the perfect hair straightening device for all uses. The device proves to be safe, and even has a default setting of 180F so that users never have to worry about burnt or damaged hair.
Check Price
XTAVA Professional Flat Iron
The great thing about improved heat technology is that this XTAVA device takes full advantage of it; while offering users a real higher heat action for shiny and silky hair. The product is credited with reaching over 430F; while delivering more than 60% more power than other similar devices.
Check Price
Verdict-
In short, the unit is amazing with its quality, versatility and affordability. It is the best budget pick for frizzy and curly hair type. We love how lightweight it is, a fact to consider because it takes very little space when locked and feels so light that you can take it anywhere you go. Also the minimal weight doesn't put pressure on your arms while you straighten your hair. One drawback is the thinner plates are not suitable for long and thick hair.
Pros:
Top quality ceramic plates
60 seconds fast heating
Reaches 210 degree C for perfect salon straight look
Adds shine to your hair
Tin plates can be used as a curler
Lightweight, easy to carry and hold
Swivel cord for better flexibility
2 years of warranty from Philips
Cons:
Thin plates takes more time in straightening long and thick hair
Check Price


NOTE : Philips Straightener is equipped with a special ION functionality to provide you frizz-free smooth hair. When this function is on, it is normal to hear a sizzling sound coming from your straightener. You may also get a strange smell. However, this is is nothing to worry about. The straightener is still safe to use

2 professional temperature settings

Hair straightener fast heat up in 60 seconds

1.8 m heat safe cord. Temperature Settings-210°C - 190°C. Styling temperature-210°C

2 years Philips India warranty from the date of purchase ; Toll free number:1860-180-1111/1800-102-2929 for any assista
Havells HS4101 Hair Straightener
Verdict-
Moreover, this Havells Hair Straightener is well suited for everyday use. Further it avoids pressure on hair and prevents hair breakage to a greater extent. Most of the customer's complaints were about build quality and the manufacturing services.
Pros:
Inexpensive
Straightening plus curling
210°C of temperature settings.
Advanced PTC heating element.
2 years warranty on the product
45 seconds of quick heating mechanism.
Cons:
Poor manufacturing services.
Build quality is not up to the mark
2 year guarantee

24 hour home service. Contact_us on: [ 1800-103-1313][ 1800-11-0303 ]

Ceramic coated , Indicator: LED indicator

45 seconds quick heat up

Advance PTC heating element

Highest temperature 210 degree celsius

Switch based on/off mechanism
18m long power cord

Floating plates
Syska Superglam HS6810 Hair Straightener
Verdict-
SuperGlam is a full value for money product. We love how stylish it looks, the way it straightens and how light it weighs. But, you can't use it for curling, also, the plates are not ceramic plates; they are ceramic coated which are not as superior as Philips but does its job pretty well. Apart from this, it is a quality product with all the features that one could ask for under this price range.
Pros-
Auto-off over heat protector
Safe heat resistant plates that cools down faster
Stylish glossy looks
Push up lock system
Lightweight and travel friendly
2 years of warranty on the product
Cons-
Cannot be used for curling like Philips
Small straightening plates takes more time
Plate material could be better.
Ceramic plates for better heating and smooth gliding
Rapid heat up in 60 seconds, The power is 3 watts, Lock Function: Yes
Auto-off for over heat protection, Automatic Off: No
Sleek design with Lockable handle makes it travel friendly and easy to use
Swivel cord prevents from getting wire tangled
Check Price
Nova NHS 860 Hair Straightener
Verdict-
A major drawback of this unit is its warranty, though it claims 1 year warranty but there are several terms and conditions which makes it unreliable. Otherwise, it does a pretty good job at straightening; hair stays straight until you wash it. A great choice for those who want quick straightening results without spending their whole pocket money on a straightener.
Pros:
Budget friendly
Good quality ceramic coated plates
4 temperature setting levels
Larger plates give faster straightening results
Auto-off in case of overheating
Heats in 30 seconds
Cons:
Body gets hot when used for long time making it difficult to hold
Unreliable warranty
No locking in the plates
Ceramic, patented floating plates
Temperature range: 90-210 degree Celsius
Heat up time: 60 sec
Check Price
Kemei KM-329 Hair Straightener
Verdict-
The device can do wonders for thin to medium hair that is wavy and not curly, the hair stays straight for 2 days if you stay away from humidity and don't wash your hair. On the negative side, it doesn't do a good job for those with heavy curly hair and it doesn't have any warranty. But at this price point, you can't ask for anything else. It a solid pick for the money.
Pros:
Super affordable
Has temperature settings
Ceramic coated plates ensures better heating
Quick heat within 30 seconds
Auto shut off to prevent heat damage
Cons:
No warranty on the product
Not suitable for curly thick hair.
Heavy duty
Maintenance free
Corded device
Hair straightener
Multi-purpose use
Check Price
Shoppostreet Hair Straightener
Verdict-
To wrap it up, the hair styling kit does a pretty decent job in both straightening and curling. The quality is top-notch at this price, looks expensive, and has a shiny finish with a cute pink colour. Customers didn't have any major problem using it; only disadvantage is that it doesn't come with a warranty.
Pros:
2 in 1 styler for both straightening and curling
Solid build quality that looks expensive
Teflon ceramic plates provides smooth gliding
PTC heater provides superior heating
30 sec quick heating
Cons:
No warranty on the product
Smaller plates not suitable for heavy long hair
Not a reputable brand
Check Price
Hair Straightener
Best Hair Extension
Best Flat Iron Hair Straightener
Related Post