SEARCH YOUR TOPIC HERE....
06 July
Complete Jewellery guide for Sikkim brides . Designerplanet
..
The Sikkimese wedding dress is similar to the royal dress and is called 'bakhu'. The 'bakhu' is made of the finest silk and is made in a traditional, yet unique way. It is an Ensemble consisting of a loose blouse, skirt and belt to tighten the waist.Beautiful accessories accentuate the look of the wedding. Both couples wear beautiful traditional pure gold jewelry. Small and elegant jewelry is made that reflects the simple and elegant style. The concept of 'White Marriage' has also become very popular in Sikkim. Millions of people living in Sikkim follow this wedding tradition. Before that, the bride wore a wedding dress in bright and vibrant colors. But for now, only simple white dresses have been chosen that are similar to the beautiful wedding dresses of Christian brides in Sikkim. The gold jewelry was replaced by very delicate and modern dress jewelry. The bride prefers to wear simple and beautiful jewelry, which matches the dress, rather than traditional jewelry.
..
Traditional Jewelry of Sikkim from Head to Toe
The northeastern part of India is a paradise waiting to be explored, and Sikkim is one of the many beautiful places. There are four important communities in Sikkim-the Lepchas, the Bhutias, the Limbus and the Nepalis. Although they come from the same place, each community has its own culture and customs.
Thus, there is no typical 'Sikkimese' jewelry - it varies in shape, size and purpose according to the community in which it belongs. In this article we will take a look at the jewelry worn by these tribes and list everything about the traditional jewelry in Sikkim from head to toe.
What is Sikkimese jewelry?
The majority of the Sikkimese population has two types - those made of metal and those of trinket types such as bracelets, necklaces, watches and earrings. The metal used to make heavy belts, anklets or necklaces is usually silver or gold, as these are precious materials. They also use semi-precious stones to make other types of colored bead jewelry.
The precious metal jewelry is made from the first copper prototype model with all the design details. The design is often in the style of Thangka art - a religious Buddhist painting style with Tibetan roots.
The model then goes through the process of disposing of lost wax. When the prototype is perfect, the frame is given an extra layer of wax to make the figure thicker. Then, a layer of gold is discarded after it has been molded, and your jewelry is finished. Semi-precious stones are used to add color. Commonly used stones are turquoise, lapis lazuli, or coral.
Different Types of Traditional Sikkimese Jewelry
Each tribe has its own type of jewelry, and each has its own way of expressing traditional colors. It represents their community and tribe, because your clothes are what distinguishes them.
Traditional Jewellery of Sikkim:
Bhutia Tribe Traditional Jewellery:
Bhutia women wear heavy gold-plated earrings, called Yencho. Yencho is an ornament for the ear and especially the earlobe.They go in the form of a wax and gold cast and are sometimes decorated with a turquoise or red coral in the center. They are usually flat and round.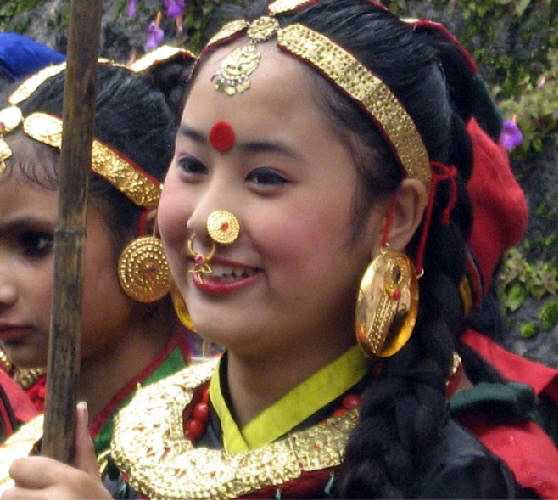 Khao is a traditional necklace worn by Bhutia women. It comes in two types - one made of gold and one with beads and semi -precious stones. Gold is torque-style, often chunky and heavy, and is designed to sit like a scarecrow on a woman's neck.
Phiru is a pearl jewelry made into a necklace and is from Tibet. Sometimes they have a heavy silver or gold pendant as the centerpiece. For religious reasons, turquoise, red coral and Dzi beads have a heavy impact. Tibetans believe that turquoise plays an important role in giving its spiritual power to jewelry. Meanwhile, red coral is there to balance the spiritual impact of blue with turquoise. The local explanation for this balance is that the blue-green turquoise is worn by people with tired and bloody eyes.
Dzi beads are part of Tibetan as well as many Asian cultures using them as beads. They were originally made of agate and are found in Bhutia jewelry while avoiding the 'evil eye'.
Diu is the traditional bangle worn by Bhutia women. They are thick, heavy gold or silver, and sometimes decorated with semi-precious stones. Khalli Bhutia women love to be adorned with traditional jewelery and wear thick silver-plated shoes known as Khalli. These also have sometimes intricate carvings and shapes.
Joko is the traditional ring of Bhutia women made of silver or gold. They vary in shape and form, but gold often has a turquoise or red coral in the center.
..
..
Diu, Khalli, and Joko made of silver are worn daily, while those made of gold are reserved for traditional festivals because Bhutias are proud of their gold. Men don't have traditional jewelry but should wear the Shambo (traditional pine hat with fur) with their clothes on these important occasions.
Limbu ornaments The population of the Limbu community is of Sino-Tibetan descent and is one of the only ethnic groups that make up a large portion of the population of Sikkim. The women in this community are culturally and historically rich-not only because of the beautiful jewelry they possess but also because the Limbu community believes that race is transmitted matrilineally. Gold (samyang), silver (yuppa), glass (yuppa), coral or amber (ponche) and turquoise (mudhin) are the main ornaments. The primary influence of Limbu jewelry is nature. The jewelry they brought was as follows:
Headgear:
Samyanfung: It means 'golden flower' —which is real. It is a large round gold cap placed on the headpiece and usually has a red coral in the center. Samyangung is inspired by the sun and has been reflecting it since it was made on the head.
Sesephung:
The name means 'bright flower' and blossom. However, it was made in the shape of the moon and made of coral. Necklace: Yangyichi: It is also called Reiji and is a long necklace made of silver coins.
Namloyee: Also called Yogakpa, a silver necklace usually round or squaric in shape and similar to the Tibetan Ghau. The necklace is decorated with coral or turquoise.
Pongwari or Kantha: This necklace is made of soft fabric (plain red) and gold beads.
..
..
Earrings:
Nessey: A type of round ring made of heavy gold. It is made flat, and the most common type of spring is a coral or glass spring. Laskari: These are gold earrings that Limbu women wear daily on their ears. Its shape can vary from leaf to diamond. Yarling: Lotus -shaped earrings. In addition to these, two other important jewelry are the Swagep, a traditional gold ring, and the Hukpangi, a type of silver ring. Limbu women make many other accessories that are hard to name them all. Therefore, the few listed above are the only known and traditional ones. Like most Sikkimese men, Limbu men do not have traditional jewelry but real hats made of cloth called Paga - which makes them part of their personal clothing.
4. Other types of Sikkimese jewelery
As mentioned earlier, the Sikkim tribes have different costumes and ornaments - which makes it difficult to place them all in one category as a state. Therefore, we have discussed in detail only the three major tribes that originally settled.
In addition to them, Sikkim also has many ethnic groups of Nepali origin who speak the language. Some of them were also the first inhabitants of the land. This category will focus on jewelry from these groups and Sikkimese jewelry in particular.
Nepalese Tribe Traditional Jewellery:
1.Tiara - Sir Bandi:
Tiara or Sir Bandi is the tiara has its roots in classical antiquity and is seen as a symbol of the loss of innocence in the crown of love. In the past, they wore formal attire, which is now called a "white tie". Sometimes the invitation says, "The tiara is about to be worn." It's usually over now.
2. Necklace - Kantha:
A Kantha is a decorative necklace or string of beads, jewelry, or necklace worn around the neck. Kantha jewelry starts with the thought of giving new life to the old. Kantha quilts are a standard fabric found all over India, made of layers of old sarisa cotton, sewn with "kantha" running stitches. The craftsman turns the pieces into beads into jewelry and the skirts are gone! New life is given to the cloth that is better discarded. The base of the wooden beads is formed from waste from a local furniture company so it lasts all around!
3. Pearl necklace-State:
Negeri can be a pearl necklace (traditional jewelry in sikkim) can be a sexual motto where a person ejaculates semen on or near his neck chest, or the chest of another person. The term pearl necklace is used by some because the semen that a person puts out is similar to a necklace with a transparent white pearl.
4. Tilhari
Tilhari Gold Pendant with Green Beads is the colorful glass necklace depicting married women in Nepal. A woman seen practicing tilhari may also be a husband. Traditionally, it is a long necklace made of colored glass beads that are sometimes red. He put Tilhari around his neck. Tilhari can also be a long necklace with a pole string with a gold ring in the middle.
5. Nose Rings - Bulaki:
Bulaki can be round like jewelry made on the nose. Note: Mushrooms may come out of the injection hole or even be held in place. It is a rope placed around the nose of an animal to guide or control it. The bride or better known as Bulaki is an important part of the look and is deeply rooted in Indian culture. It is one of the most popular wedding traditions that is supported by the bride and groom due to the trend.
6. Silver Anklets-Kalli:
These hollow silver ankles are worn by married women until the birth of their first child. They need two large finials, and so the hoop is a dragon body shaped with scales similar to leaves.
However, the middle part of the hoops becomes simpler.
Tamang Jewelry
The Tamang community is a group of Sikkimese people from Tibet. Tamangs are an important part of Sikkim and make up 6.8% of the indigenous population of Sikkim. They have their own traditional clothes and jewelry. Tamang women have traditional star-shaped bracelets and mathi shoe laces. They also have chyap, gold necklaces, and nhabi mhar, gold earrings. They also wear gold -plated earrings called botil or alung.
Ghau Pendants
Ghau pendants are special necklaces of Tibetan origin that are actually decorated boxes to hold prayer scrolls! They are usually silver and have healing stones such as turquoise, lapis lazuli, and other corals. Buddhists keep many things like sacred herbs or relics of ancient gurus to remember them in these Ghau pendants.
..
..
Akor Earrings
Akor earrings are beautiful jewelry from Lhasa origin and are distinguished by their long length and end, which is a lotus flower. They were originally made of rope because of their weight and tied to headgear. Nowadays, you can easily see the beautiful and red coral reefs in Sikkim as they become part of the community.
..
..